One of the things I find about toilets is that if I walk into a gents and there are no urinals, I immediately think I might have walked into the ladies. The toilets at the Glencoe camp site were like this and a quick check of the door was required to ensure I was in the right place. The next morning I was waiting to use the toilet cubicle when the current occupant turned out to be a woman. Had I been using the ladies all along? No. She quickly explained that there was a sign saying she should use the gents. Said sign actually said the ladies toilets were closed for cleaning and women should use the toilets elsewhere on the camp site (i.e. the ladies loos in another toilet block). After I minor shock I got on with the day.
Given how windy it was I had slept well. The tent has a self contained inner attached to the outer. As long I was in the tent it wasn't going to blow away. The weather wasn't so fantastic with lots of mist and cloud. This is the view back to the camp site and mountain.
Today I was to climb the ominously named "Devil's Staircase". Actually, while hard going, this wasn't anything different from any hill walking I had done before. Plus, today was the shortest day so I could take my time and enjoy the scenery. Once up Devil's Staircase the path levelled off and the weather cleared up. This led to a very nice trek across abandoned farmland. Eventually I came across Kinlochleven peaking out from behind a hill. For most of the other sections of the walk I didn't see my destination ahead like this.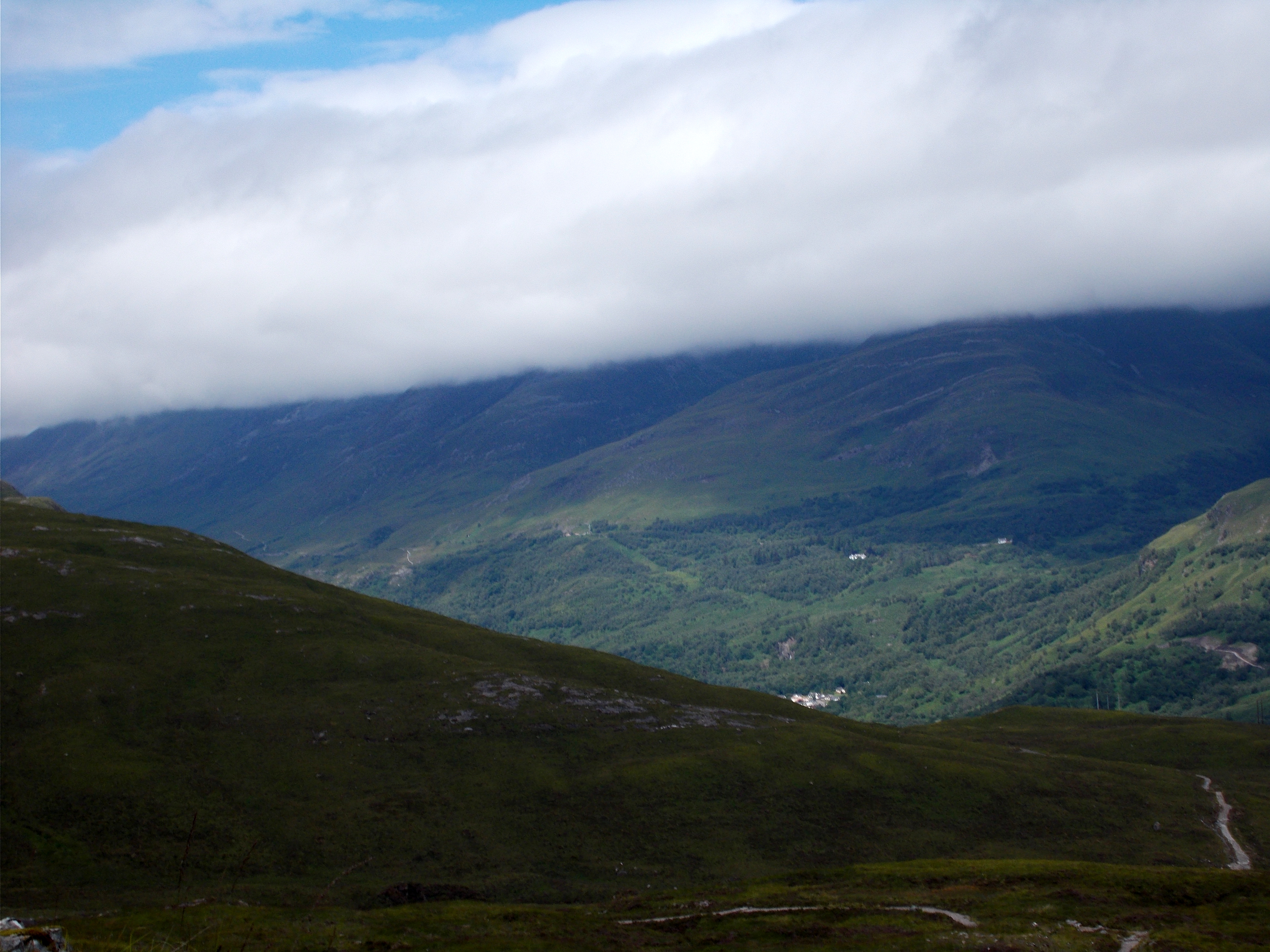 After pitching camp I wander into town to get some shopping and have a cup of tea. I went to a pub/cafe and had one cuppa. When asking for another I was told that they had turned off the tea machine as the electricity was required elsewhere. Very strange (particularly given that Kinlochleven has it's own power station). Dinner was a "Highlander Burger": a burger with both black pudding and haggis on it.